Products Description
Tarpaulin fabric is waterproof ,reinforced in strength ,and matched with a high density woven polyester fabric. Pvc film is coated on two sides of polyester fabric with sizing agent which contains glue inside. 650g weight per sqm is very normal for tarpaulin fabric, however it's just an example, any weight and color is available ,like 670g per sqm with color blue, or 630g per sqm with color red.
Tarpaulin fabric could be widely used in many applications, it could be produced into truck covers, other vehicle covers, or used as tent fabric, or sunshade, awnings. To expand lifespan of pvc tarpaulin fabric, we enhance its resistance to harsh environment by adding extra substances which act like anti-uv, anti-mildew/fungus,anti-oxidation, etc.
The physical specification is what we used to judge the performance of the fabric in the beginning, three type datas are necessary and required . Breaking strength/tensile strength, tearing strength, adhesion strength. The following sheet is our average data, please check: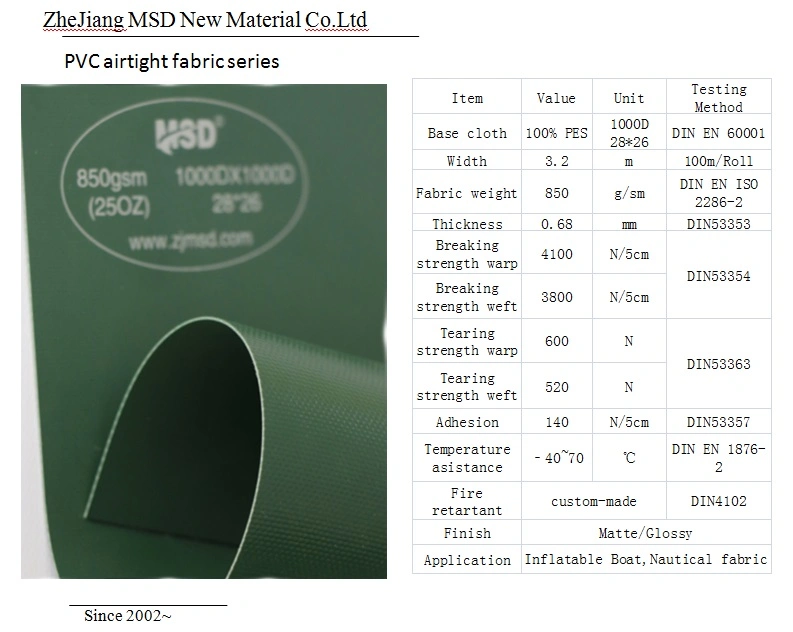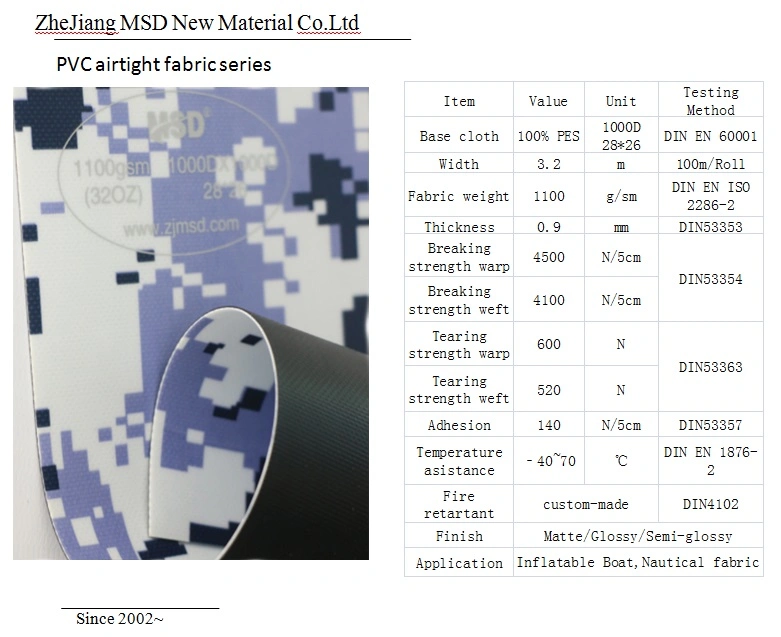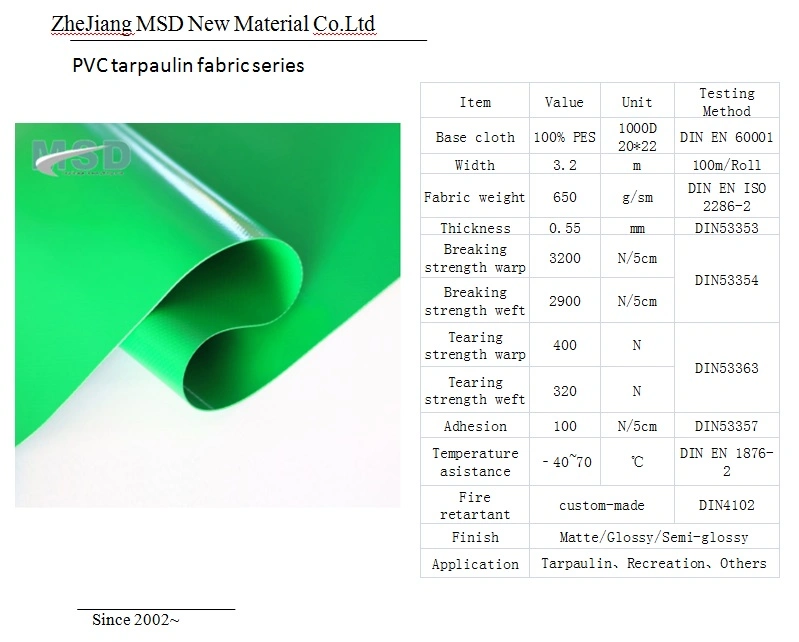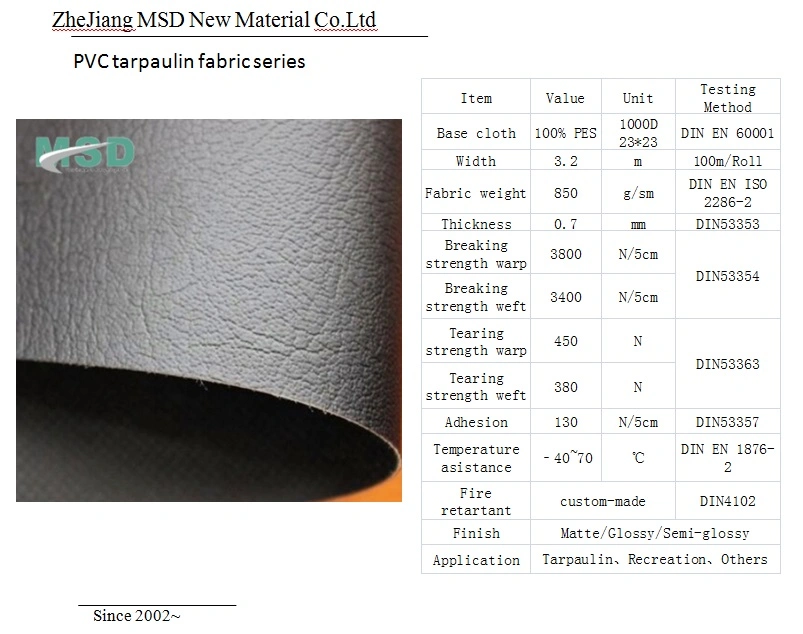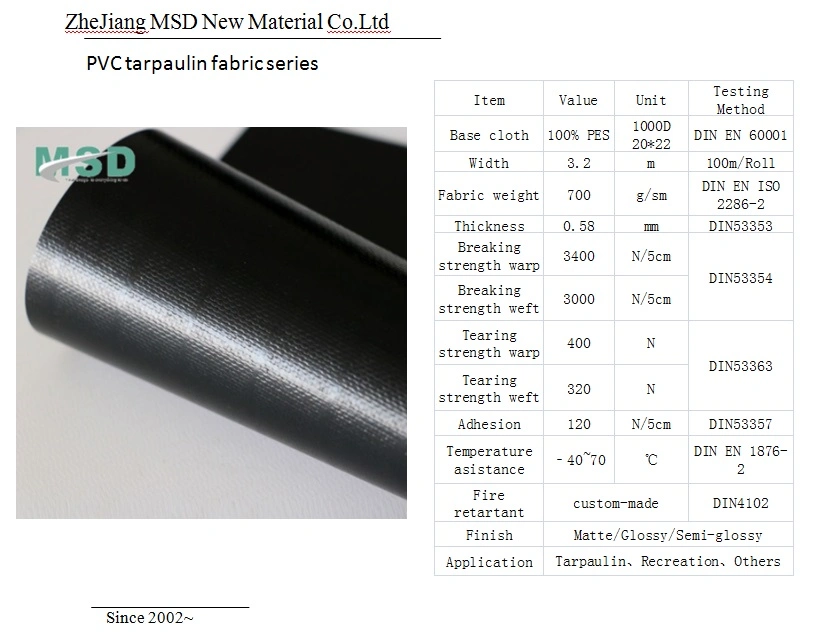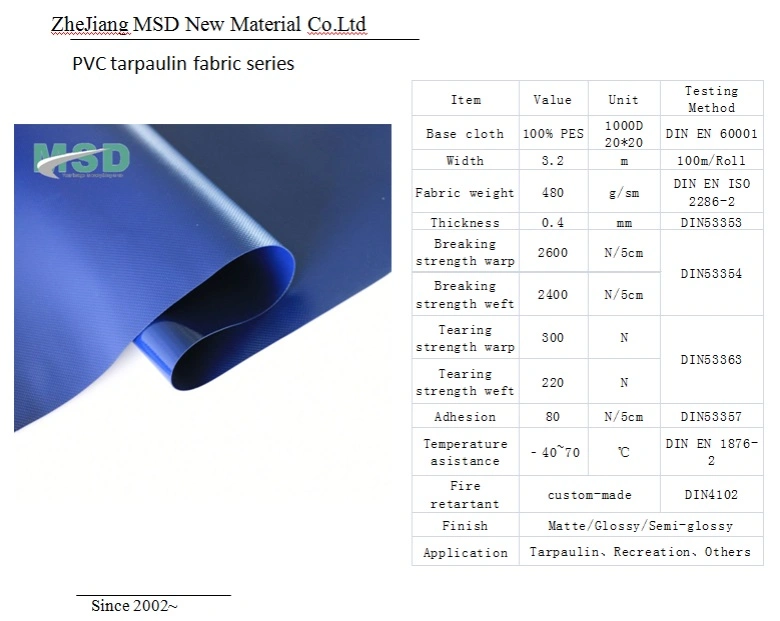 Company Information
MSD new material company started in 2002, we specialise in manufacturing and innovating of pvc laminated and coated fabric, With rich experience and self R&D ability, our products could pass Reach, CPSIA, EN71 standard, ROHS statute, we also have experience to produce fire retardant qualified products like NFPA701,M1/M2, B1/B2 standard .
Advantage MSD get:
1) Our machine is imported from Taiwan ,South Korea, the width can reach 5m;
2) We have more enough machines, including 10 laminating & coating machine, 12 calendaring lines, this number will be doubled when MSD's new factory putting into production, in late of 2019;
3) We have a continual growth market share, whether in China mainland or in worldwide country, the output value of 2017 is $180 million, and employees are more than 650.
4) Our staffs have high passion and initiative in the work, natually improving the quality and avoiding mistakes & defective products sending to clients. Thanks for MSD's founder and owner Mr. Zhu and also MSD's general manager, Mr. Hao, they think, a good payment to high-skilled staff promoting company forward.