DH-S High Speed Nonwoven Shoe Cover Making Machine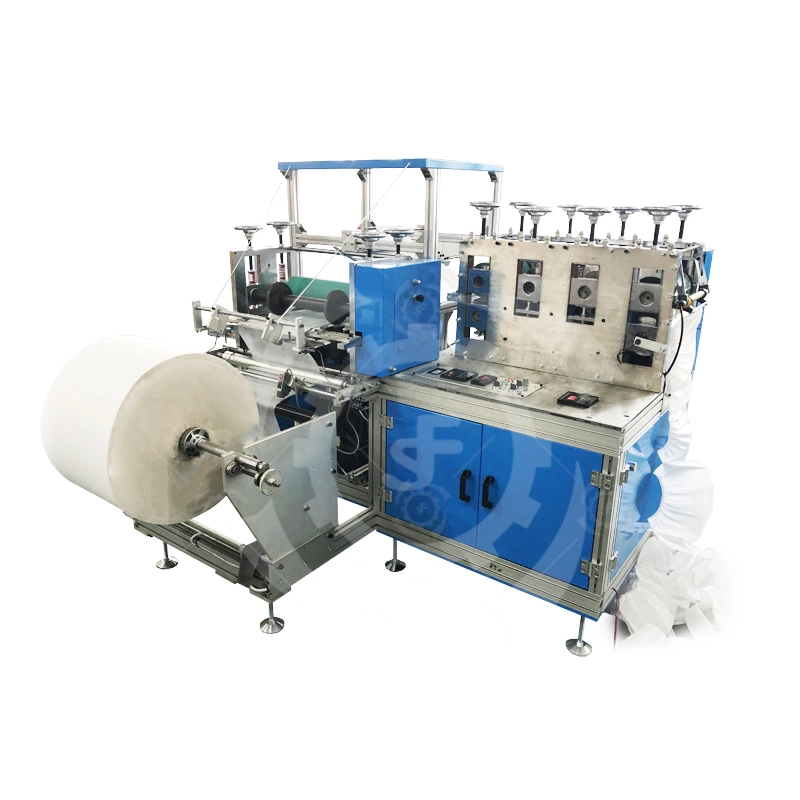 Youtube video:
https://youtu.be/S1r6XbQy9FU
Description
1.Disposable non woven shoe cover manufacturing machine, can produce non woven material shoe cover, good quality, low price, high output advantages, can completely replace the manual shoe cover, save labor, reduce cost, can be customized according to customer requirements, this machine for automation.
2.Automatic operation from raw material feeding to layering to product counting.Using computer control, automatic tension control, can be adjusted hot hand electric welding, the two ends of the shoe cover and rubber effectively fixed, from the raw material into the finished product automatic whole process, the entire operation of the industry only one person.
3.Variable frequency speed regulation.
4.Feed the finished product immediately.
5.Automatic thermostatic control.
6.Adjustable hot hand electric welding.
Technology
:
Using computer control electric fusion, thermal bonding, frequency conversion speed regulation, production of
nonwoven
material disposable shoe cover, from delivery to finished products to complete integrated production
Production process:
Automatic feed - import - fold - connect - disconnect
Technical Parameter
Type

Nonwoven,High Speed,Fully Automatic

Size

2600mm*2100mm*1500mm

Packing size

2500mm*1200mm*1400mm




Speed

1

10

-1

5

0

pcs/min

Voltage

220v/380v(customized)

Power

12

kw

Weight

600kg

Product size

400*160mm

(

L*W

)

could customized

Raw

Materials

Rubber bands,

non woven

Machine material

Rust-proof,Aluminum alloy and spray channel steel

Main Configuration Sheet
Name
Remarks
No
Brand

Discharge Shaft

Mechanical shaft

1

PCS

China

Adjustable

Flanging Device

SS

2PCS

China

Traction Roll

Post

1

PCS

China

Ultrasonic Machine

20000 HZ

3SETS

China

Reinforcing Ironing Device

Special Alloy

1SETS

China

Side-Sealing Device

1SET

China

Folding Device

Postposition

1SET

China

Traction Roll

Pre

1

China

Speed Reducer Motor

1.5KW

1

Jiangsu

Main Motor

1.5KW

1

Jiangsu

Magnetic particle controller

2.5KW

1

China

Cutting Knife

Roller type

1

China

Electrostatic Eliminator

16KW

1

China

Electrical Appliances

SCHNEIDER

1SET

French

Temperature Controller

OMRON

4

Japan

Inverter

1.5KW

1

China