Disposable Waterproof Plastic Sleeve Covers Blue Arm Covers
1. Destination:
Barrier protection for food processing and handling, manufacturing, farming, painting, gardening, household cleaning, cooking, medical, surgical, pharmaceutical, protective, laboratorial, catering and industrial sectors. It is good for workers in hospitals, clinics, electronic workplaces, restaurants, hotels, catering, kitchens, food processing workshops
2. Composition:
Low-density polyethylene for LDPE sleeve cover; High-density polyethylene for HDPE sleeve cover; Polyvinylchlorid fiber for PVC sleeve cover; Polyethylene film coated polyprolylene non-woven fabric for disposable PP+PE sleeve cover is a cmbination of PP oversleeves and PE oversleeves with of waterproof feature. Pure or recircled materials available. Spun-bonded polypropylene non-woven fabric is often made for durable, breathable, comfortable and disposable non-woven sleeve cover.
3. Description:
With thickness of 0.012mm, 0.015mm, 0.016mm, 0.018mm, 0.02mm, 0.022mm, 0.023mm, 0.025mm, 0.03mm, 0.04mm, 0.05mm, 0.06mm in various colours - yellow, blue, green, white, orange, black, grey, pink, purple, dark for PE or CPE sleeve cover. 25g. 55g. For disposable nonwoven sleeve cover.
4. Feature:
It is economic, convenient, waterproof, oil-proof for multiple usages in kitchen, hospital, hotel, barbershop, beauty salon, working plant, electronic workshop, labs, theatres, etc to protect you from dust, oil, chemicals and water.
Packaging:
100 pieces per poly bag, 20 poly bags(2000 pieces) per master carton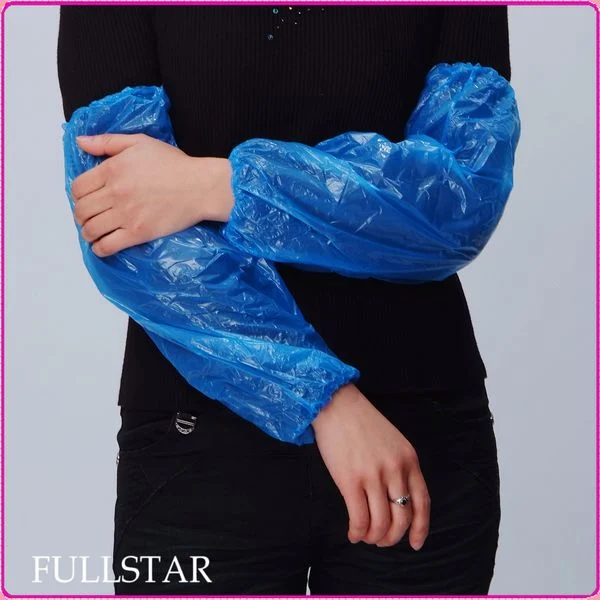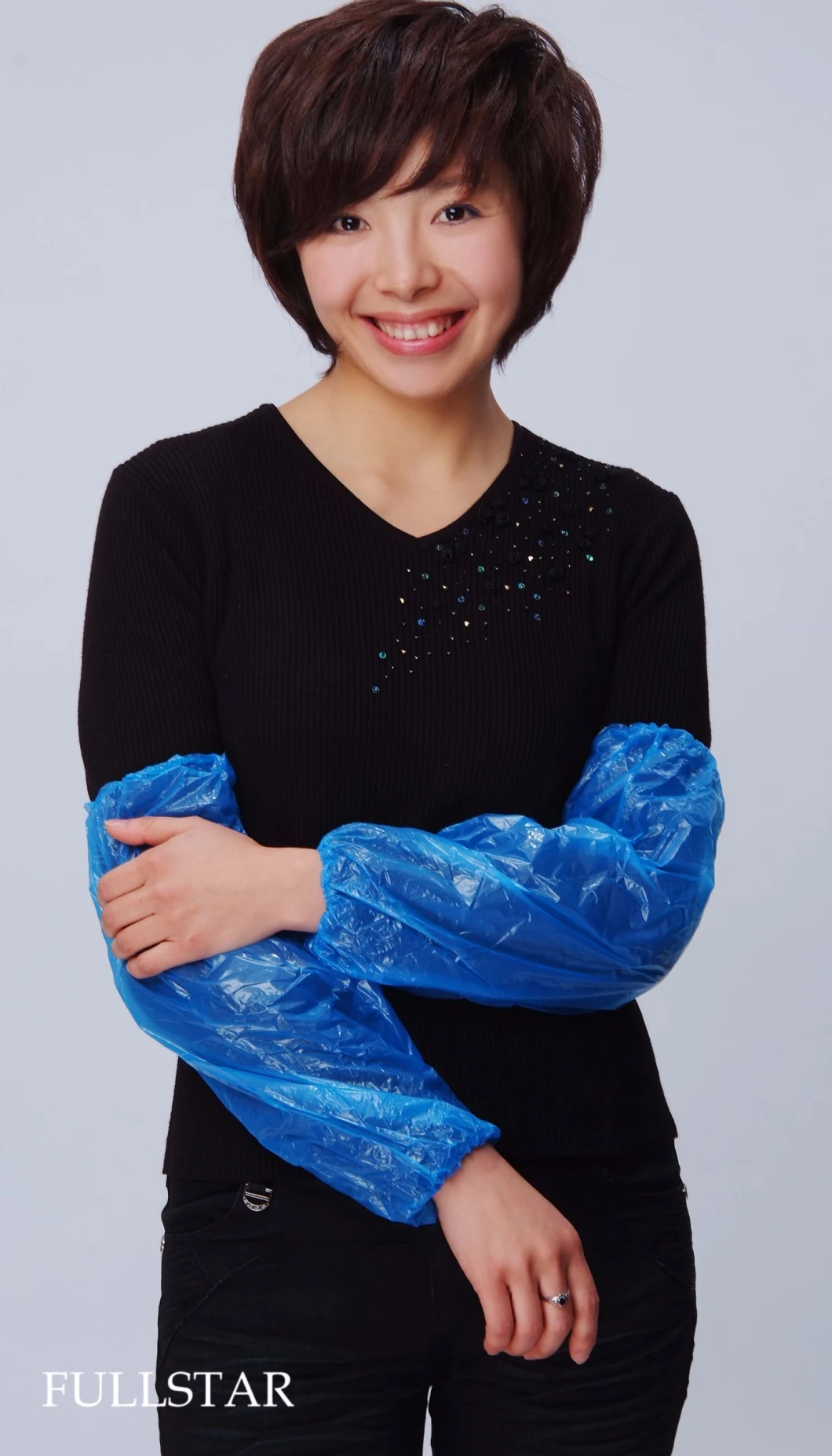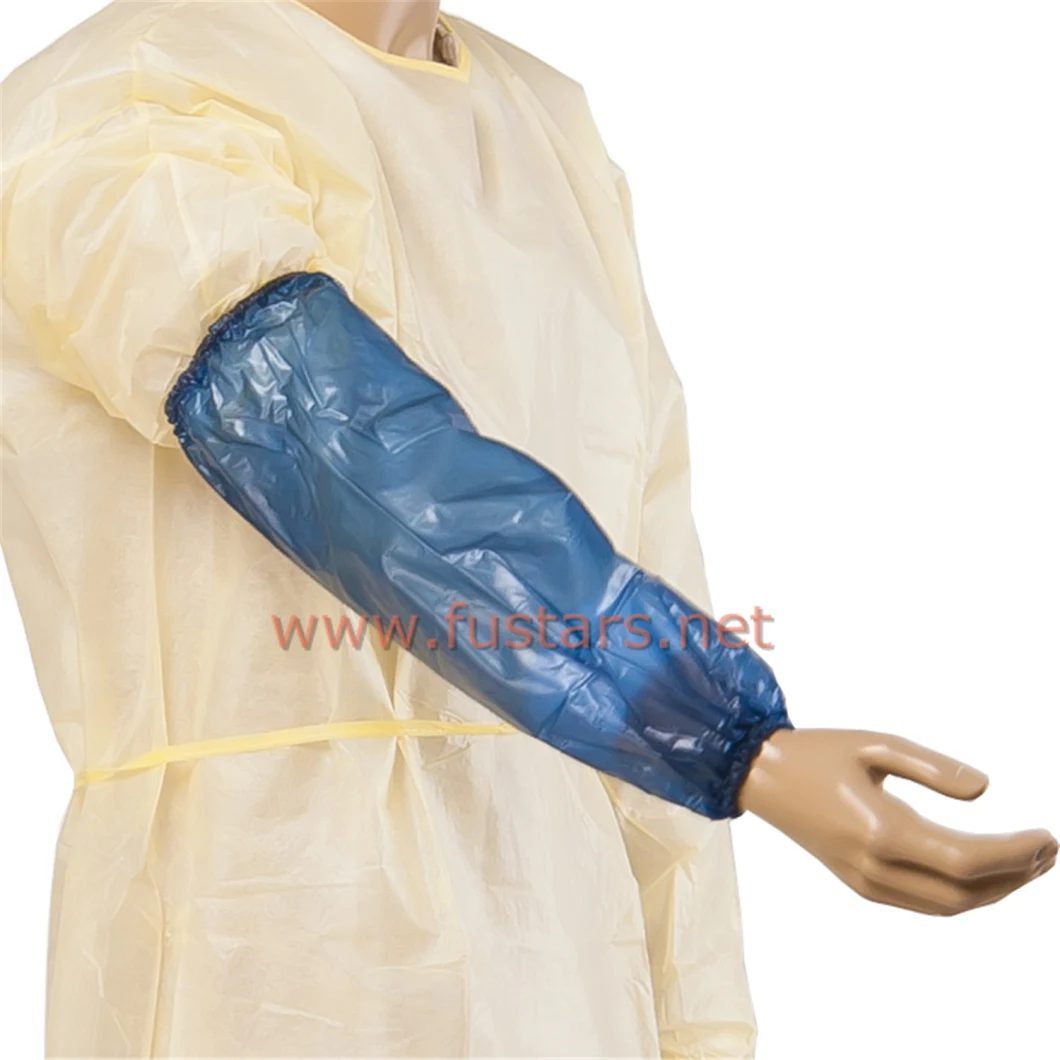 Factory Briefs:
* Located in Xiantao city, Hubei province. Scale: 2 plants and 1 industrial zone.
* Including a 100,000 degree clean-room.
* Production Capacity: 80x40'HQ containers per month.
* Certificate: CE, ISO9001, ISO13485, FDA.
* Experience: Established 1993 has over 25 years experience.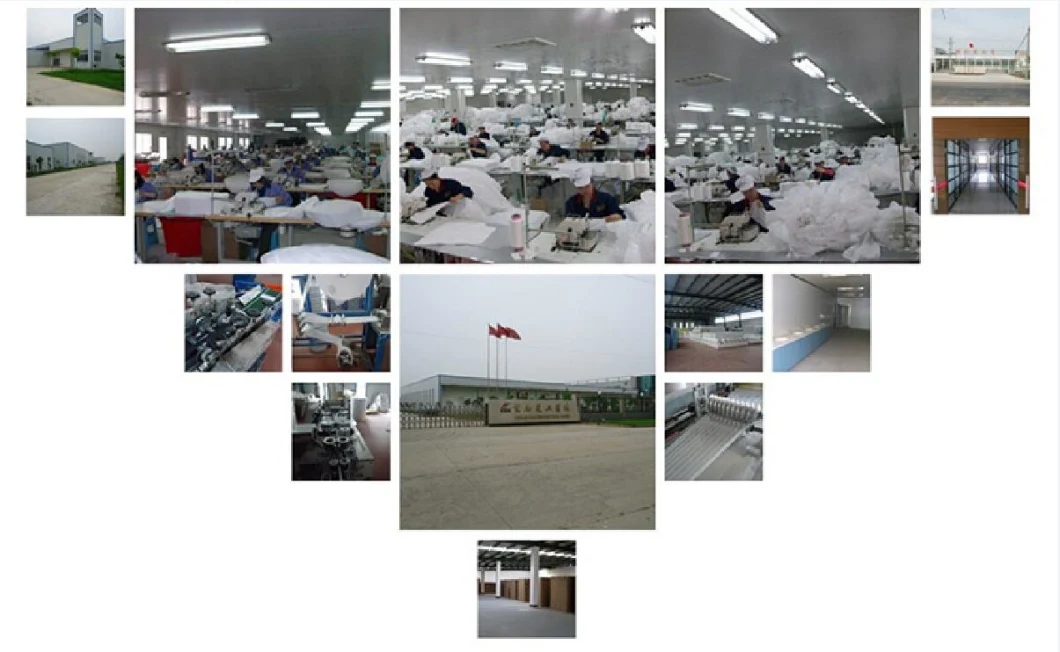 WHY FULLSTAR?
* Manufacturer with over 25 years history in producing all kinds of disposable apparels.
* Strong production capacity, Professional quality control process
* High quality products, Competitive prices, Promising sales team
* ISO9001, ISO13485, CE certificated, FDA Registered
Customized and non-customized products are both available. More kinds of design to be found here.
Welcome to visit us -- FULLSTAR
Office: Room 8-1-1808, Fuxing International City Building, Xudong Street, Wuhan Hubei 430063 China
Factory: Gongtong Infustrial Zone, Xiantan City Hubei China
Tel.: +86 27 59609191
Website: xiantaofushi.en.made-in-china.com
Other Products We Provide:

Face Mask

3Ply Face Mask

4Ply Face Mask

Active Carbon Face Mask

Dust Mask

Paper Mask

N95 Mask

FFP1, FFP2, FFP3 Mask

Face Mask With Shield

Face Mask for Children

ES Mask

Mask With Earloop

Mask With Tie

BFE

>

99% Mask

PFE

>

99% Mask

Caps/Hairnet/Beard Cover/Hood Cover

Bouffant Cap

Mob Cap/Clip Cap

Surgical Cap With Tie

Nurse Cap With Elastic

Nylon Hairnet

PE Shower Cap

Peak Cap

Astronaut Cap

Beard Cover

Beard Net

Hood Cover

Hood Cover With Face Mask

Hood Cover With Lap

PE Shower Cap

Overshoes

Non-Skid Shoe Cover

Super Non-Skid Shoe Cover

PU shoe cover

Waterproof shoe cover

PE Filmed Shoe Cover

CPE shoe cover

PE shoe cover

Boot cover

CPE Boot cover

PE Boot Cover

Disposable Clothing

Isolation gown

Patient Gown

Chemotherapy Gown

Patient gown

Surgical Gown

Scrub Suit

Kimono

Bathrobe

CPE Gown

Lab Coat

Coverall

Jacket

Pants

Nonwoven Shorts/Skirts

Visitor Coat

PE Apron

PVC Apron&Sleeves

Sleeve Cover

Nonwoven Underwear

Brief

Bed Set

Bed Cover

Bed Sheet

Pillow Case

Mattress Cover

CPE Bed Cover
*******Best Service
·
Rapid Response*******
we are a formal and reliable manufacturer of Disposable & Protective Products in China, with 25-year experience in safety protective and health care field
Products: Head wear, Face Masks, Apparel (Isolation Gowns, labcoat, Coveralls, Scrub Suit), Shoe/Sleeve Covers, Aprons, Gloves, Surgical Dressing, etc.
Material Range:Polypropylene, SMS, Micro-porous Laminate, PE Polypropylene, Polyethylene, Vinyl, Fire Resistant Materials etc.